Patagonia outdoor clothing brand becomes a climate-centric business
The hugely successful clothing brand, Patagonia, is using 100% of future profits to help fight climate change. Patagonia is a private company headquartered in Ventura, California, and its outdoor clothing and equipment products are market leaders. Yvon Chouinard founded the company in 1973.
"It's been a half-century since we began our experiment in responsible business. If we have any hope of a thriving planet 50 years from now, it demands all of us doing all we can with the resources we have. As the business leader I never wanted to be, I am doing my part. Instead of extracting value from nature and transforming it into wealth, we are using the wealth Patagonia creates to protect the source. We're making Earth our only shareholder. I am dead serious about saving this planet," said Chouinard.
It's clear the climate crisis is happening faster than we thought and it's worse than we thought
"Every time you read a new scientific report, it's clear the climate crisis is happening faster than we thought and it's worse than we thought. The stakes could not be higher. If we want to protect nature and support communities, businesses can't continue to adhere to the prevailing economic model. Patagonia has been breaking the mould for decades, and now they have shattered it. Now I want to know, which companies will be next to step up?" —Dr. Ayana Elizabeth Johnson, board member.
The world is literally on fire
"The current system of capitalism has made its gains at an enormous cost, including increasing inequality and widescale uncompensated environmental damage. The world is literally on fire. Companies that create the next model of capitalism through deep commitment to purpose will attract more investment, better employees, and deeper customer loyalty. They are the future of business if we want to build a better world, and that future starts with what Yvon is doing now." —Charles Conn, chair of the board.
Learn more
Read Patagonia's press release, Earth is now our only shareholder
Latest posts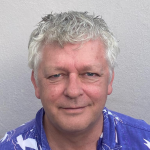 Founder and CEO at Hempoffset.com and TaoClimate.com.
Hempoffset works with hemp growers and makers worldwide, to capture and sequester CO2 at scale, while building a sustainable world.
Tao Climate works with companies and individuals that want to measure, minimise and manage their carbon footprints. Tao Climate is the way to carbon neutral.
We are proud members of the Google Startups for Sustainable Development program.