Help
If you need fast help with anything on this site, including shopping, deliveries or technical issues, you've come to the right place. Woohoo!
Chat with our customer support team any time, just use the little green chat icon on the bottom right. It looks like this: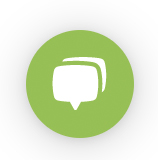 Or email hello@hempoffset.com
Or tweet us @hempoffset
FAQ
How do I measure and offset my carbon footprint?
First, get to know your carbon footprint. On our Carbon Footprint Calculators page, you can quickly see what your country's average carbon footprint looks like. You can also measure the carbon impact of activities like flying and eating meat, and even measure the footprint of an entire business. Much of your carbon footprint is beyond your control. For example, how electricity is generated in your country has a huge impact, but you can take actions to reduce your carbon footprint. You can easily offset your carbon footprint by funding our growers' hemp crops, and owning the carbon credit value of the crop.

You can learn how and why to buy our Hemp Carbon Credits here.
What is Hempoffset?
Hempoffset is a value exchange platform that connects people across the carbon and hemp lifecycles.
Who grows the hemp?
We currently (June 2023) work with licensed industrial hemp farmers in Ireland and Ukraine, and we're talking with growers worldwide. We aim to work with hemp growers in every country where it's legal to grow the industrial crop. And we'll work to educate everyone about the value of hemp so that anyone, anywhere can grow it legally. Our hemp carbon offset products are available for purchase by corporations and consumers worldwide, in our secure store.
How much CO2 does hemp absorb?
It varies, depending on the type of hemp being grown. Fibre-rich hemp plants can absorb up to 15 tons of CO2 per hectare. We work with our growers to monitor crop inputs and outputs so that we can gather the best data on how much CO2 hemp absorbs, and will share it as we get it.
So is hemp the solution to climate change?
We believe that hemp is the solution to climate change and that growing hemp at scale will absorb enough CO2 from the air to stop climate change. We will use the hemp plant fibre to build sustainable housing, thereby trapping/sequestering the CO2 for over 100 years.
How much does the hemp grower get paid for carbon offsets?
The hemp grower and maker gets paid 66% of what you pay for the carbon credits. Hempoffset commission is 34% on platform transactions.
How do I know my money gets to the grower?
In people we trust, but in transparent records we believe. We will work with growers to help them tell their stories to supporters. And we're using blockchain technology to build a global record of hemp growing and carbon offsets, ensuring that the grower gets paid and the supporter gets credit for the carbon offset. Our vision includes the creation of multiple dimensions of value based on the value of hemp crops and their carbon offset, and other dimensions of value, including jobs, biodiversity and oil and plastic displacement.
What's the XPRIZE CARBON REMOVAL connection?
Hempoffset is a business, capitalism with purpose. The XPRIZE legal and technology requirements have been, and will continue to be, met by Hempoffset. We're building a separate project team around XPRIZE. This will allow us to grow the team with the diverse skills needed. The team will manage its participation in XPRIZE and team members will share in any winnings.
Who supplies the carbon offsets for sale on your store?
We're currently working with licensed hemp growers in Ireland and Ukraine. Our vision is for a global hemp growing community, with investment powered by people everywhere, for the greater good. Our strategy is about lifting people out of climate crisis, poverty and homelessness at scale.
Who owns Hempoffset?
The business is currently owned by Tao Climate Limited. The business is registered in Ireland and complies with all applicable Irish and European Union requirements. The ownership model will evolve as the business and operations grow.
How can I help stop climate change?
First thing is to do something. We want to help you figure out how you can best make a big impact. We want to experience the journey with you. Join us!
Got any more questions for us? Email us at hello@hempoffset.com. We'll keep this resource up-to-date.
Got support, shopping or technical issues? Please email hello@hempoffset.com
---
Latest posts…