Dublin Tech Summit confirms that global tech has a real opportunity to stop climate change
How do we make things better?
Dublin Tech Summit 2022 had 3 recurring themes: Sustainability, Diversity, and Inclusion. And one big surprise. It was clear that everybody wants to stop climate change and deliver a better, fairer world. What's needed are the mechanisms that will allow us to turn good words into measurable actions. And at scale.
There were so many powerful presentations and compulsive panel discussions, with participation from senior leaders at Google, Zoom, Lenovo, Logica, Spotify, and more. There were also significant contributions from startups including Evocco and Tracworx, as well as VCs such as Elkstone. The themes echoed around the halls of the RDS. But, what's the answer to the existential question?
President Zelensky of Ukraine provides an answer
The Hempoffset team took our seats in the circus tent on the RDS grounds, in a space normally reserved for showjumping horses, anticipating an engaging presentation from Spotify on building for developer happiness. Suddenly, pretty much every person at the Summit milled into the tent. Spotify is a successful company and keeping developers happy is crucial, we thought. But this is a little too much enthusiasm!
So the CEO of DTS22 took the stage, to announce a surprise, special guest appearance by President Zelensky. He was presenting to multiple tech events simultaneously, in hologram form. The penny dropped. Invoking Star Wars, President Zelensky spoke about how, after the Empire was defeated, Ukraine would lead the world in the creation of a digital society, with equity and accessibility at its heart, and how he hoped that a new, high-tech Ukraine could inspire the world.
In a very real sense, he answered the existential question: What is the world we want to see, how do we get there, and why doesn't everybody help? The answer: We know the truth in our hearts, so we must join together to make the world that we truly want to see.
This was the inspiration the audience needed, and it echoed around the world. Hempoffset's vision is for tech to not only stop making the climate crisis worse, but to lead the world to a better place. And we're providing the tools to make it happen. Join us.
---
Learn more
See how we can help businesses in tech, retail, and services to become truly carbon-neutral and sustainable
Use our carbon footprint calculators to measure the impact we're having on climate
The Guardian: Hologram Zelenskiy promises Ukraine will defeat 'the empire'
Image credits
Header photo: Gary and Felix from Hempoffset.
Latest posts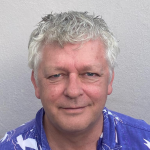 Founder and CEO at Hempoffset.com and TaoClimate.com.
Hempoffset works with hemp growers and makers worldwide, to capture and sequester CO2 at scale, while building a sustainable world.
Tao Climate works with companies and individuals that want to measure, minimise and manage their carbon footprints. Tao Climate is the way to carbon neutral.
We are proud members of the Google Startups for Sustainable Development program.