Ozymandias is a climate warning
OZYMANDIAS by PERCY BYSSHE SHELLEY
I met a traveller from an antique land,
Who said—"Two vast and trunkless legs of stone
Stand in the desert. . . . Near them, on the sand,
Half sunk a shattered visage lies, whose frown,
And wrinkled lip, and sneer of cold command,
Tell that its sculptor well those passions read
Which yet survive, stamped on these lifeless things,
The hand that mocked them, and the heart that fed;
And on the pedestal, these words appear:
My name is Ozymandias, King of Kings;
Look on my Works, ye Mighty, and despair!
Nothing beside remains. Round the decay
Of that colossal Wreck, boundless and bare
The lone and level sands stretch far away."
---
The consequences of human arrogance and neglect of the environment
'Ozymandias' by Percy Bysshe Shelley may seem like an unusual choice for a poem about climate change, but its underlying message serves as a poignant warning about the consequences of human arrogance and neglect of the environment.
In the poem, a traveller stumbles upon the ruins of a once-mighty civilization, now reduced to a shattered statue in a barren desert. The inscription on the pedestal reads, "Look on my Works, ye Mighty, and despair!" This line captures the hubris of those who believed their power and achievements would endure forever. However, the irony lies in the fact that nothing remains except the ruins and the sands of time.
Likewise, when we consider climate change, it's a warning about the consequences of our actions. Human activities, such as burning fossil fuels and deforestation, have led to rising temperatures, extreme weather events, and the loss of biodiversity. We too have believed in the invincibility of our progress and technology, ignoring the warnings from nature.
'Ozymandias' reminds us that our unsustainable actions can lead to the downfall of even the mightiest civilisations. It's a call to humility, urging us to recognise our impact on the environment and take meaningful steps to mitigate climate change before it's too late. Like the statue of Ozymandias, our grand ambitions could be reduced to nothing but relics in a desolate world if we do not heed this warning.
---
Prevent an Ozymandias future for humanity. Join us.
Register your intent to grow and/or make with hemp.
Offset flights today with our radical new air travel offsets.
---
Latest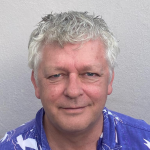 Founder and CEO at Hempoffset.com and TaoClimate.com.
Hempoffset works with hemp growers and makers worldwide, to capture and sequester CO2 at scale, while building a sustainable world.
Tao Climate works with companies and individuals that want to measure, minimise and manage their carbon footprints. Tao Climate is the way to carbon neutral.
We are proud members of the Google Startups for Sustainable Development program.